Kursfahrt
Glasgow – Edinburgh 2016
ENG 1&2 with Ol, Ae and Cn

Glasgow Tag 1
Lucia, Helena, Ngoc An, Leandra
Nach unserer Ankunft am Sonntag, verbrachten wir den Montag damit, einige Wahrzeichen Glasgows zu Fuß zu besichtigen. Nach dem Frühstück ging es zu den "City Chambers", einem der architektonisch schönsten Gebäude im gesamten Vereinigten Königreich. Anschließend schauten wir uns die "University of Glasgow" an, um einen Eindruck vom schottischen Studentenleben zu bekommen. Nach einer kurzen Besichtigung machten wir uns auf den Weg in Richtung "Kelvingrove Art Gallery & Museum". Dort genossen wir eine recht lange Führung mit anschließendem Orgelkonzert. Die Galerie zählt zu einer der beliebtesten Besucherattraktionen Glasgows und bietet zudem auch noch kostenlosen Eintritt. Um den Tag ausklingen zu lassen, besuchten wir den botanischen Garten und genossen danach Freizeit.
After our arrival on Sunday, we spent Monday visiting different sights and attractions of Glasgow. After our first breakfast at the hostel, we walked to the City Chambers, one of the most beautiful buildings regarding architecture in the United Kingdom. Thereafter, we took a walk to the University of Glasgow to take a look at what studying in Glasgow could look like. Our next destination was the Kelvingrove Art Gallery & Museum. There we had a long but very interesting and informative guided tour with a subsequent organ concert.
Towards the evening we visited the lovely botanical garden before heading home to enjoy our free time in the city.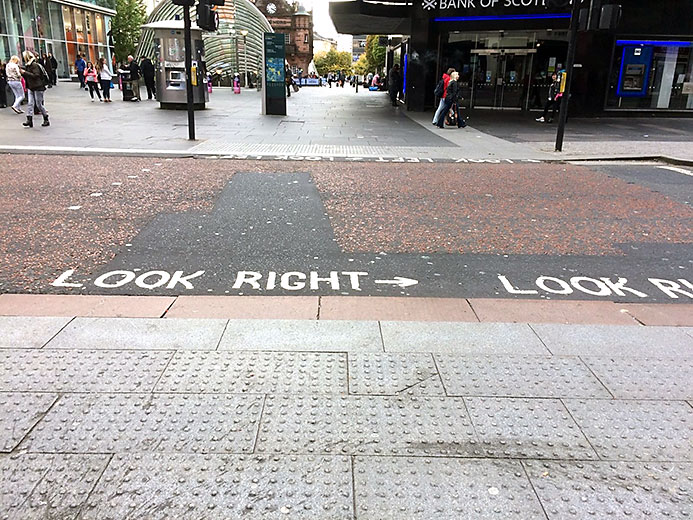 Glasgow
seen by Lennart S.
Monday was the day after our arrival in Glasgow and thus we wanted to see as many things as we could in the city we were staying at so we took a long walk to see many of the magnificent sights of the lovely city of Glasgow.
After having breakfast and getting ready we started our day trip through the largest city of Scotland and first visited the George Square and the bordering City Chambers which used to function as the headquarters of Glasgow City Council.
Having finished admiring that building we kept walking for a long time until we arrived at the Kelvingrove Art Gallery.
We learned a whole lot of things about different works of art and paintings from a volunteer tour guide. The tour around took around an hour and after we walked once through the entire building we decided to wait for the organs concert to start and then listened for a while. The pianist played a lot of classic pieces of music.
Also at that location Leandra presented to us the most important facts about the museum.
Our next stop on the trip was the Glasgow University where we were able to just hang out and relax for a bit or even have a look inside of the facility.
Closeby a part of Glasgow called 'Westend' was located where we had the chance to have some lunch and walk around and check out that part of Glasgow.
Around an hour later we continued our tour and headed towards 'Glasgow Green', a park near 'Westend' which also included the botanic garden of Glasgow. Being done walking through the greenhouse we took a "hike" through the entire park.
Glasgow Green also was our last stop on the trip and then we went back to the part of Glasgow where our hotel was located at.
Some of the stundents instantly went back to the hotel since the walk drained many out of their energy and some made use of their free time until 10 pm to explore the region nearby a bit more or to get some shopping done.
That was our first and already pretty exciting day in Glasgow.
Dear Diary,
On the 11th of October, being the 3rd day of our trip to Scotland, we went to the Highlands.
At first the coach brought us to the Loch Lomond, which is a huge lake with a beautiful view on the Highlands in the background and a little bridge where you can enjoy the pretty sights sitting with your legs just above the water.
What was also beautiful about this place, was surprisingly a ting building, being a little souvenir shop designed in a gorgeous rustic way.
The next stop on our little bus trip was an overwhelming view on some of the biggest mountains we've seen at this day. We were able to take some photographs and enjoy the sight. Standing in front of this huge mountains makes one feel really tiny, which made me think of nature being very inspiring but also even scary being that enormous.
The last place we visited on this day was Fort William, a small city in centre of the highlands. This small but pretty place was worth seeing, just because of it's pleasant atmosphere. These tiny streets with the pretty buildings were really adorable.
Fort William also was the place we have chosen to eat some lunch and make some shopping if we wished to.
We visited an old book store where you were able to buy the oldest treasures of books at very small prices. That's also where we met an old couple, who told us something about the history of Fort William and showed us the way to the ruins of the original fort from the past. That was a place where we were able to take amazing pictures.
After eating something we met at the parking for buses and got on our way back to the hostel. Everyone was tired of the long trip but also impressed about the prettiness of Scotland's nature and with these impressions we came back to Glasgow in the evening.
Maya P.
Highlands
by Martin D.
Für den 3. Tag der Reise stand ein Tagesausflug mit Kleinbus in die schottischen Highlands an. Das Wetter präsentierte sich typisch für die Highlands mit tiefen Wolken, Regen und zwischenzeitlichem Sonnenschein. Wir fuhren früh morgens im eigens gemieteten Kleinbus los und stoppten sowohl am Loch Lomond, als auch in Fort Williams und einem Aussichtspunkt. Der Ausflug war zwar mit viel Busfahren verbunden, dafür bekamen wir das typische Schottland, wie man es auf Postkarten erwartet, zu Gesicht.
On the third day we made a trip to the Scottish Highlands. The weather was typical for the Highlands with low clouds, rain and also a little bit of sunshine. Early in the morning we started with the rented bus, making our way up north. During the trip we stopped at Loch Lomond, Fort Williams and a viewing platform right in the middle of the Highlands. Even though we had to spend a lot of time in the bus with almost no leg space, we were glad to be able to see the typical Scotland as you would imagine it on postcards.