BB DC am HCG

After three months of intense preparation the HCG was ready to welcome about 170 students and their teachers from schools in Berlin and Brandenburg.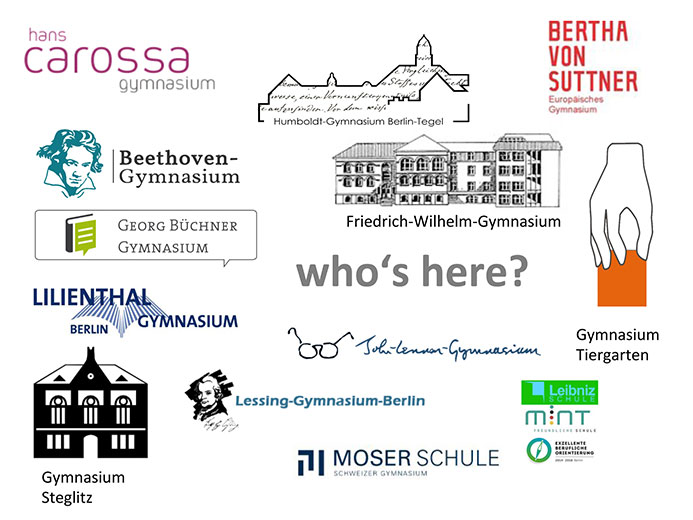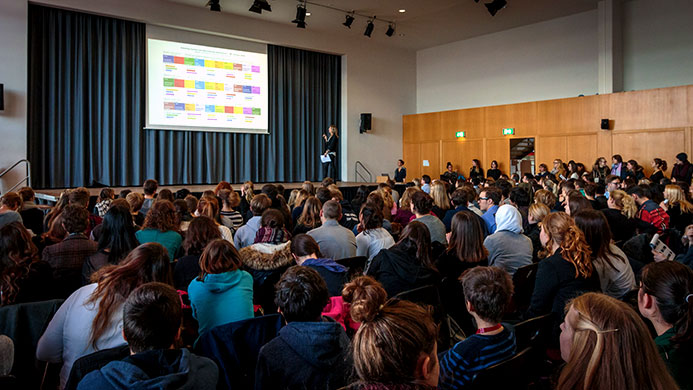 Obviously, the HCG had a junior and a senior team as well:
JUNIORS
Berrin (9b), Maximilian (9b), Sophie (9b), Annika (9b), Lena (9d) and Stina (9d)
Their motions


Round 1: THW make debating a compulsory subject at school.
Round 2: THB that every parent should attend a puberty management class.
IMPROMPTU: THW not cheat in tests.

*)  THW = This House Would… (deutsch: "Dieses Haus würde…"), die Einleitungsphrase für die Themen auf internationalen Debattierturnieren.
THB = This House Believes

SENIORS
Nina (Q4), Jaime (Q4), Laura-Marie (Q4), Hannah (Q4), Karolina (Q4), Julian (Q4), Florian (Q4), Ngoc-An (Q2) and Helena (Q2)
Their motions
Round 1: THB that courts should be allowed to remove children under 16 from parents that incite hatred or violence.
Round 2: THB that every A-level student should read one of Shakespeare's tragedies in school.
IMPROMPTU:THB that every parent should attend a puberty management class.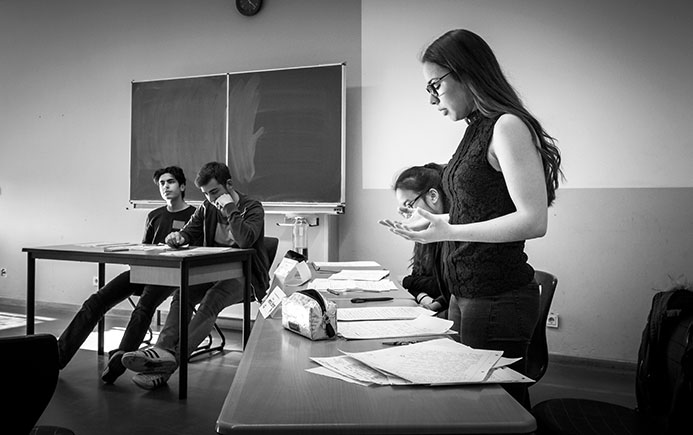 Helena convincing the audience that courts should most definitely not have the right to remove children from their parents …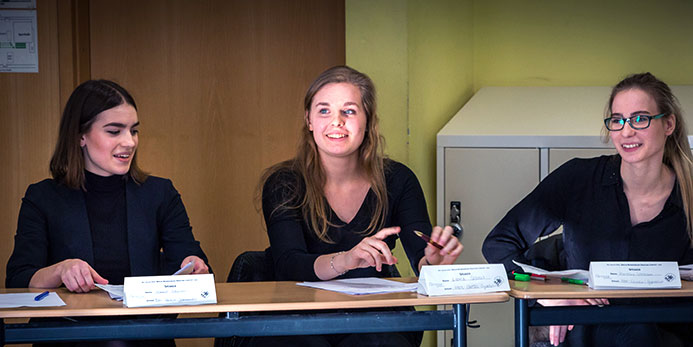 Debating is fun!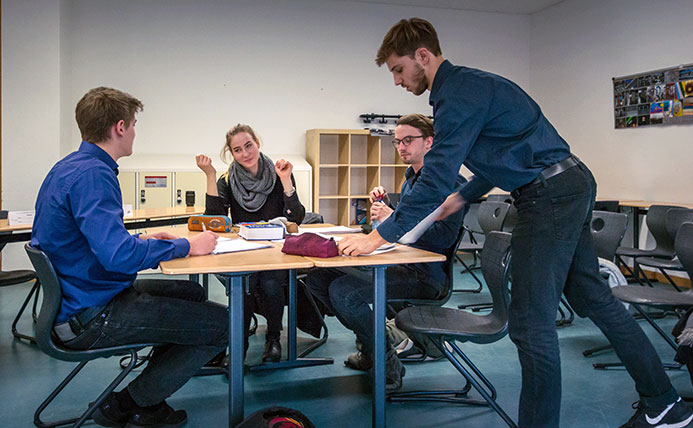 HCG think tank preparing the impromptu round …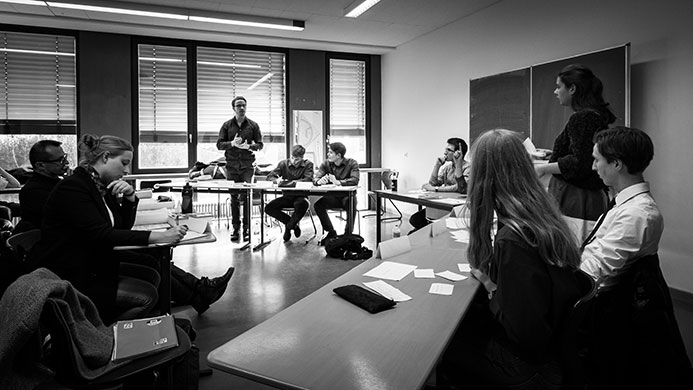 It is quite clear that parents should attend puberty management classes, right?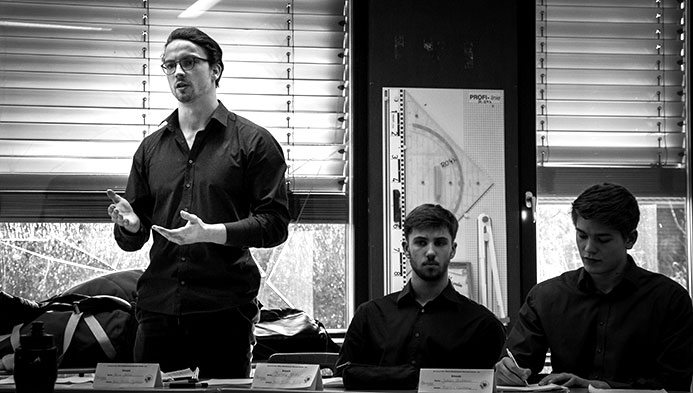 Jaime somehow seems to be bothered by the idea, though.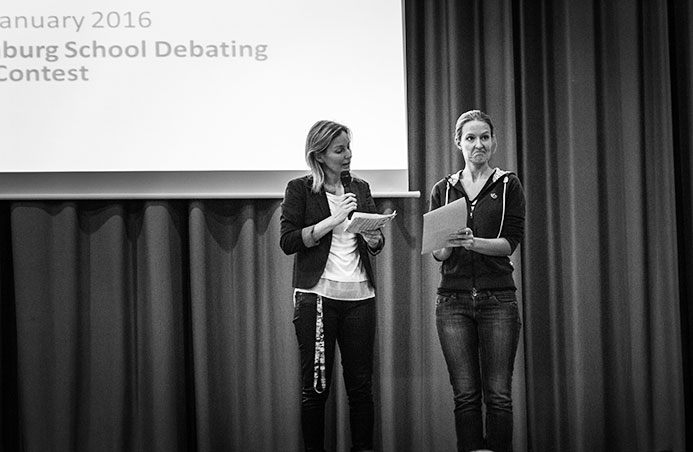 Lo and Cn doing … who knows …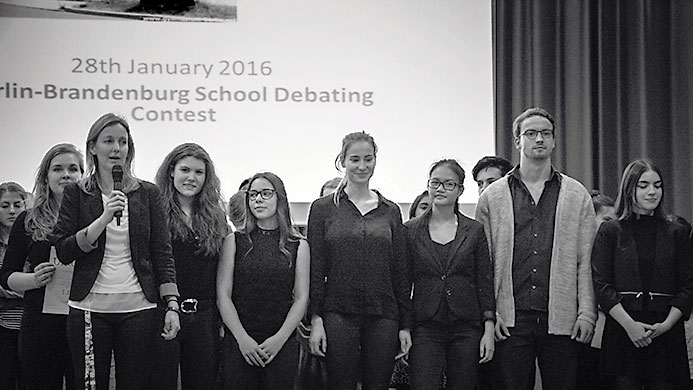 For Nina, Karoline, Laura-Marie, Hannah, Florian, Jaime and Julian this was the final contest.

Thank you so much for 2 years of intense debating! It was a thrill working with you!
And if anyone is now wondering how HCG set up the contest …
This was TEAMWORK at its best:
Welcoming our guests: Kaiser and Linda (both Q2)
Catering: Leyla, Annalena, Emma, Anna (Q4) featuring different classes who did the cooking, baking and food logistics.
Friendly ladies at the information desk: Svenja, Lisa-Marie and Lara (Q4)
IT Headquarters: Timon, Felix and Jasmin (Q4)
Chairs, timekeepers and runners: Stine, Henriette, Vincent, Hajin, Maximilian, Lina, Josephine, Laetitia, Konstanze, Janina, Christina, Celina, Luca, Vincent, Linus "Lewandowski", Lucia, Philip, Antonia, Celine und Samira (Q2 and Q4)
Responsible for dictionaries: Jonathan (Q4)
Photographer: Maximilian (Q4)
Stayed until the bitter end: Julian (Q4)
Pictures by Maximilian  / Text by Cn